RealTraps

, LLC
34 Cedar Vale Drive * New Milford, CT 06776 * 860-210-1870 * www.realtraps.com

(Back to Newsletters and Press Releases)

REALTRAPS NEW MODULAR PRODUCT LINE FEATURES EXTREME DIFFUSION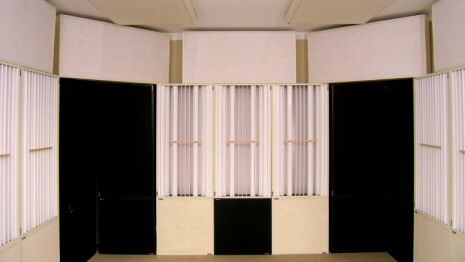 Our new Modular treatment features extreme diffusion to make a small room sound much larger than it really is.
New Milford, CT, USA - July 7, 2009 - RealTraps has announced a new line of very high-performance acoustic treatment products that are modular and require no permanent mounting. All of the modules are six inches thick and can be stacked free-standing up to a height of eight feet. A special soft non-slip material is provided to hold the traps securely, and protect them from scratching.
Although this system is intended for high-end mixing and mastering engineers working in smaller spaces, it is also ideal for regular 2-channel hi-fi listening and even home theaters. If you have the desire - and budget - for the very highest quality, this is the acoustic treatment solution for you.
Three module types are offered, each resting on a 2'x2'x6" MondoTrap base:
The corner bass trap modules use a 2'x4'x6" MondoTrap.
The reflection absorber modules use a 2'x4'x6" HF style MondoTrap.
The wall modules use the

RealTraps

Diffusor that is also a bass trap.
2'x4'x6" MondoTraps rest above each module to treat the wall-ceiling corners.
Although the pieces are used as a modular system, they are sold individually and priced as shown in the RealTraps Prices page ranging from $199.99 to 599.99 each with quantity discounts applied for ten or more pieces of any type.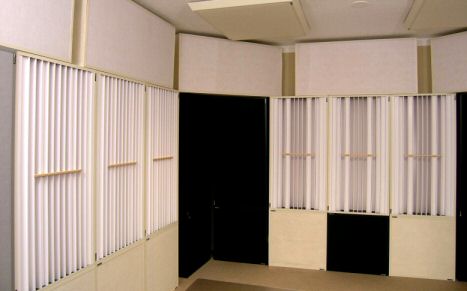 Each module is six inches thick, so the pieces free-stand on their own with no holes or permanent mounting needed.
We also created a new demo video Hearing is Believing to describe our new modular system in depth, and let you hear what it sounds like as if you were right there in the room. Presented by RealTraps partner Doug Ferrara, graphs show the huge improvement in frequency response and decay times at all frequencies. Achieving this much improvement to below 40 Hz is unprecedented for any commercial bass trap at any price.
Of particular interest is how uniform the reverb decay times (RT60) at mid and high frequencies become with large amounts of diffusion. Most audio engineers and hi-fi fans understand the importance of a flat frequency response, but many are not aware of the role of reverb decay time. Even if the steady state response is perfectly flat, frequencies that take longer to decay will sound louder in the room simply because they linger longer and thus have more total energy than frequencies that decay more quickly. Long decay times also harm clarity and imaging. As you will see in the demo video linked above, adding RealTraps diffusors evens out the RT60 times in each band making them nearly identical over most of the audible range.
---
RealTraps is owned by Ethan Winer and Doug Ferrara. Ethan is known throughout the audio industry for his many technical articles in audio and computer magazines, and he has engineered and produced several classical music CDs, including a recording of his own cello concerto. Doug is a professional musician and recording engineer who holds an advanced degree from Rensselaer Polytechnic, and is a member of the New York Academy of Sciences. Previously he was a systems engineer for Motorola.
General product information: www.realtraps.com
Contact by email: Jim Lindenschmidt
By phone: toll-free 866-RealTraps (866-732-5872, local 860-210-1870)
# # #
Copyright © 2009 by RealTraps, LLC. All rights reserved.