RealTraps

, LLC
34 Cedar Vale Drive * New Milford, CT 06776 * 860-210-1870 * www.realtraps.com

FOR IMMEDIATE RELEASE

RealTraps Provides
Cell Phone Privacy Stations
At AES 2013

New Milford, CT, USA - September 30, 2013 - It will be a homecoming of sorts when RealTraps provides several Cell Phone Privacy Stations at the upcoming Audio Engineering Society (AES) show in New York City in October. The idea for this product came when RealTraps co-founder Ethan Winer observed how noisy it was on the floor at the Javits Center at previous AES shows.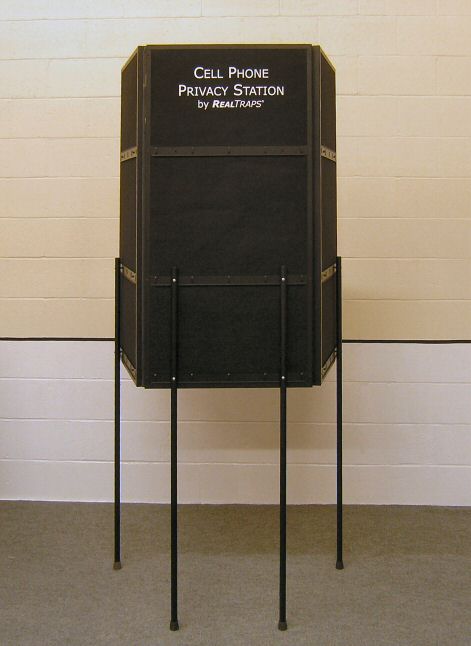 Click HERE to download a high-resolution photo suitable for publication.
"As I walked around the show floor I saw people covering their ears, or trying to find a quiet spot to use their cell phones. That gave me the idea for a 'portable booth' large enough to stand inside. Not only for shows like the AES, but also at busy airports and restaurants. We're happy to bring this product full circle and provide Cell Phone Privacy Stations for AES attendees to use at no cost," said RealTraps co-owner Ethan Winer. "It's remarkably effective, letting people converse easily and privately in a noisy environment, in addition to its use in recording studios where we call it the QuietZone."
The 135th AES Convention will take place October 17-20 at the Jacob Javits Center in New York City. Please visit RealTraps booth #3226 near the main registration desk. You may also enjoy Ethan Winer's AES workshop Lies, Damn Lies, and Audio Gear Specs that explains how audio gear is measured.
For more information about the Cell Phone Privacy Station or other RealTraps products, contact Jim Lindenschmidt via email or toll-free:
866-RealTraps (866-732-5872, local 860-210-1870)
James Lindenschmidt
General Manager, RealTraps