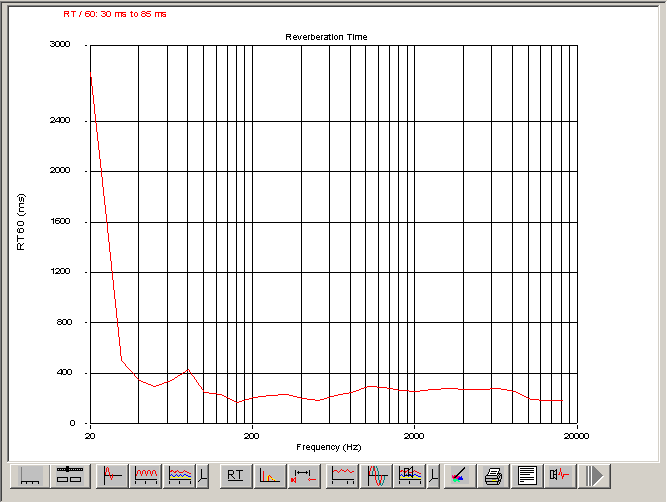 Figure 3 - This graph shows how low a reverb time we were able to achieve using bass traps in the

RealTraps

showroom. Note the uniform reverb time versus frequency. (The sudden rise at 20 Hz is an artifact.) Click the image for a larger version.
Figure 4 - This graph shows the ringing and low frequency response in my living room with 38 traps. Click the image for a larger version.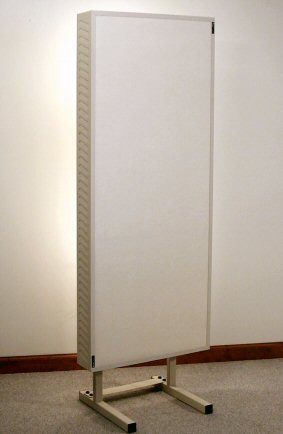 This MondoTrap from the author's company

RealTraps

is effective down to about 40 Hz. In a large room you can use EQ to reduce modal peaks at even lower frequencies if needed. Click the image for a larger version.
TREATING THE ROOM
Now that we've examined how to measure the room at both low and mid/high frequencies, the next step is to treat the room and measure the effectiveness of that treatment. My personal philosophy is to add as much bass trapping to a room as you can possibly manage. At mid and high frequencies you can definitely have too much absorption, which makes a room dead sounding and unnatural. But I don't think it's possible to have too much absorption at low frequencies.
I have 38 RealTraps bass traps in my fairly large home theater (the RealTraps showroom), and as each round of traps was added the low end continued to become flatter and tighter sounding. One big feature of RealTraps products is that they absorb a huge amount at low frequencies, with intentionally less absorption at higher frequencies. So even with that many bass traps, my home theater is not too dead sounding, having an RT60 of about 300 milliseconds over most of the audio range. Figures 3 and 4 show the short reverb time, wider modal peaks, and reduced ringing at all but the lowest frequencies that I was able to achieve in this room. You can clearly see the enormous improvement in flatness, peak bandwidth, and ringing compared to the untreated room shown in Figure 2.
Often, concerns over the appearance of bass traps and acoustic panels dictate how much treatment can be added. Although I'm not a fan of active room correction devices, such as equalizers and DSP processors, these can be useful when it's not possible to install a sufficient number of bass traps. In particular, equalizers can reduce the severity of modal peaks at the very lowest frequencies. However, they can reduce only the level of these peaks, not the longer decay times associated with modal ringing. Likewise, EQ and DSP devices cannot replace absorption for reducing the effects of early reflections, comb filtering, and excess ambience. Top
Note that EQ is most appropriate when used only for the lowest frequencies, that is, the primary mode frequency for each of the three room dimensions. This is also the range where most bass traps have less efficiency (though the bass traps I manufacture can help at frequencies down to 40 Hz and sometimes even lower). And even if EQ won't reduce ringing at the lowest frequencies, there's little musical content there anyway. If a cannon shot or rocket blast from a DVD movie lingers for an extra half second, that's not nearly as damaging as ringing that affects bass notes from a musical instrument.
Finally, I'll explain an interesting problem that happens when relying on low frequency response only for assessing the effect of placing bass traps. Sometimes moving a trap to a better location, or even adding another bass trap, can appear to make the response worse even though this is not really the case. The low frequency response at any given location in a room is the sum of the direct sound from the loudspeakers plus a large number of competing reflections from all of the room's surfaces. Some combinations create peaks, and some create nulls, but sometimes a reflection that would have made a null combines with one that would have made a peak. So together the result is somewhere between the two. If a trap reduces a reflection that had negated a null caused by a different reflection from somewhere else, the null will then appear. The null-causing reflection was always present but was partially cancelled by another reflection that has now been trapped. This is another reason that ETF's waterfall plots are the best way to assess the improvement by adding or positioning bass traps. With this type of graph, adding traps will always show the ringing being reduced, even if the raw response happens to be worse where you measure. Top
---
Ethan Winer heads RealTraps in New Milford, CT, where he designs and manufactures high-performance acoustic treatment.