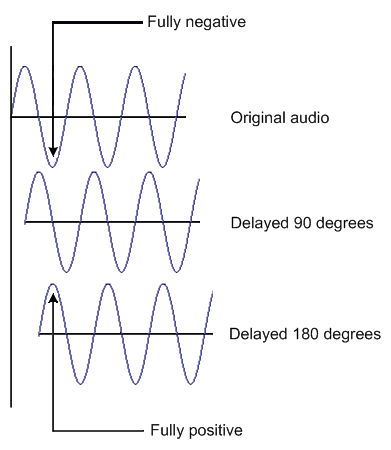 Figure 4: Delaying audio is equivalent to shifting its phase by some amount at certain frequencies. When the delay equals 180 degrees of phase shift at a given frequency, combining the original and shifted versions creates a null at that frequency and at all higher related frequencies.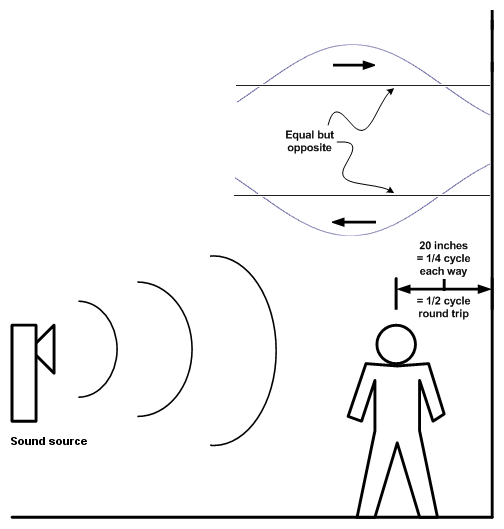 Figure 5: Delay-induced phase shift occurs at predictable distances from every room boundary. When the distance between a listener or microphone and the boundary equals 1/4 wavelength, the total round trip is 1/2 wavelength resulting in a deep notch at that frequency.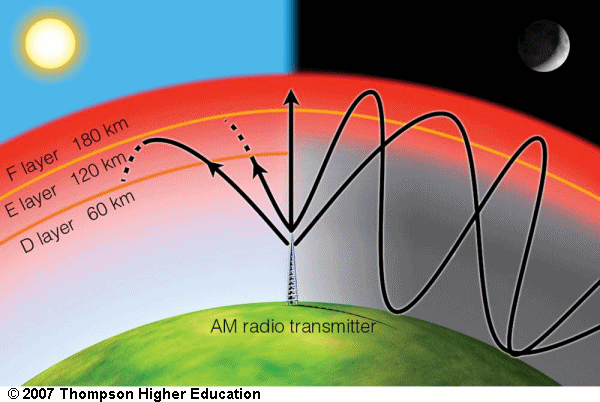 Figure 6: The ionosphere is composed of the D, E, and F layers. The D layer is good at absorbing AM radio waves. The D layer disappears at night, and the E and F layers bounce the waves back to earth. Drawing and text are from THIS page at The Lyndon State College of Meteorology.
SIDEBAR: WHAT CAUSES COMB FILTERING

You've heard the effect of comb filtering many times, but perhaps not its name. Phaser and flanger effect units use time delay - or phase shift, which is closely related - to create the characteristic hollow sound caused by a series of peaks and nulls in the frequency response. When used as an electronic effect, the filter frequencies are usually swept up and down slowly to add some animation to, for example, an otherwise static-sounding rhythm guitar part. The peaks and nulls occur when audio is sent through a delay line or phase shift circuit, and then combined with the original signal.

For any given delay time, some frequency will be shifted exactly 180 degrees. So when the original wave is positive, the delayed version is negative, and vice versa. If the two are mixed together equally, the result is complete cancellation at that one frequency. Nearby frequencies that are shifted less, or more, than 180 degrees also cancel, but not as much. Figure 4 shows a single frequency tone that has been delayed in time so its phase has shifted by 90 degrees, and again by a longer delay equal to 180 degrees. If the original tone is combined with the version shifted by 180 degrees, the result is complete silence. Other frequencies present in the audio will not be cancelled unless they are related to the fundamental frequency. That is, a delay time that shifts 100 Hz by 180 degrees will also shift 300 Hz by one full cycle plus 180 degrees. The result is a series of deep nulls at 100 Hz, 300 Hz, 500 Hz, and so forth. This is what creates the hollow swooshy sound associated with phaser effect units, not the phase shift itself. Top

This same hollow sound occurs acoustically in the air when reflections off a wall arrive delayed at your ears or a microphone. Figure 5 shows that for any frequency where the distance between a listener (or microphone) and a reflective wall is equal to 1/4 wavelength, a null occurs. Understand that a 1/4 wavelength distance means the total round trip is 1/2 wavelength, so the reflection arrives after 180 degrees of phase shift, not 90. Nulls also occur at related higher frequencies where the distance is equal to 3/4 wavelengths, 5/4, and so forth. This is why the response has a series of nulls instead of only one. Note that comb filtering also occurs at lower frequencies when the distances are larger, causing peaks and nulls there too. [You can use the RealTraps Frequency-Distance Calculator

HERE to determine the relation between frequency and spacing.]

Added February 17 and March 12, 2007: Comb filtering also intrudes in our lives by causing reception dropouts and other disturbances at radio frequencies. If you listen to AM radio in the evening you'll sometimes notice a hollow sound much like a flanger effect. In fact it is a flanger effect! The comb filtering occurs when your AM radio receives both the direct signal from the transmitting antenna and also a delayed version that's been reflected off the ionosphere. This is shown in Figure 6 at left.

Likewise, FM radio suffers from a comb filtering effect called "picket fencing" whereby the signal fades in and out rapidly as the receiving antenna travels through a series of nulls. As with audio nulls, radio nulls are also caused by reflections as the waves bounce off nearby large objects such as a truck next to your car on the highway. The signal fades in and out if either you are moving or if the large object is moving, and this is often noticeable as you slow down to approach a stop light in your car.

Reception dropouts also occur with wireless microphones used by musicians. The solution is a "diversity" system having multiple receivers and multiple spaced antennas. In this case it's the transmitter (performer) that moves, which causes the peak and null locations to change. When one receiving antenna is in a null the other is likely not in a null. Logic within the receiver switches quickly from one antenna to another to ensure reception free of the dropouts that would otherwise occur as the performer moves around.

The same type of comb filtering also occurs in microwave ovens, and this is why these ovens have a rotating base (or the rotor is internal and hidden). Even with rotation hot and cold spots still occur. Wherever comb filter peaks form the food is hot, and at null locations the food remains cold. Top

Ethan Winer eats, drinks, and sleeps acoustic treatment. He now heads up RealTraps in New Milford, CT where you can visit him at www.realtraps.com.