"All acoustic problems are caused by reflections off the walls, floor, and ceiling."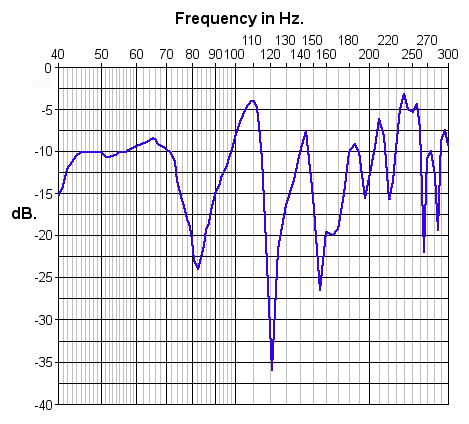 Figure 1: The horrendous frequency response shown here is typical in the small rooms often used for home studios. Click the image for a larger version.
"If your room lacks deep bass, your mixes will contain too much bass as you wrongly compensate."
By Ethan Winer
Every EQ reader will agree that recording and mixing music is a lot of fun. And if you produce your own music, it's even more fun to hear the ideas take shape and begin to sound like a "real" recording. But most of us encounter frustration somewhere along the way. Perhaps you have an impossible kick drum that sounds like cardboard no matter how you EQ or compress it. Or maybe you just can't get the bass to sit nicely in the mix no matter what you do. When you finally manage to get what you think is a good mix, as soon as you play it in the car or on a friend's stereo, your heart sinks as you realize how poor it sounds compared to your favorite commercial recordings.
The good news is most of these vibe-killers can be solved by understanding and fixing the acoustic problems that exist in all rooms. I'll begin by describing the most common troubles caused by poor acoustics, and then explain some ways to correct them.
All acoustic problems are caused by reflections off the walls, floor, and ceiling. At mid and high frequencies, reflections can cause echoes and excessive ambience that confuse stereo imaging and make it difficult to tell how much reverb and echo you're adding electronically. In severe cases, midrange reflections also cause ringing - new tones that resonate when excited by similar frequencies in the music. Low frequency reflections create standing waves that skew the frequency response and make bass instruments sound muddy. You might have the finest loudspeakers in the world, but they're of little value if the room itself creates numerous peaks and dips throughout the entire low end. Nulls as large as 25 dB are not only common but also typical, as shown in Figure 1 at left.
This graph shows the low frequency response measured in a typical 16x10x8 foot untreated control room. A pair of Mackie HR-824 loudspeakers were against the front wall with the tweeters at ear level, and the measuring microphone was placed precisely at the mix position. Note the peak/dip pair at 110 and 122 Hz where the response varies a staggering 32 dB across a range smaller than one musical whole step. No wonder you can't distinguish bass notes!
In my experience, room acoustic problems are the single biggest cause of dissatisfaction among home recordists. Unfortunately, too many people consider everything but acoustics when they have trouble making a mix sound the way they'd like. There's no denying that audio gear with rows of lights, knobs, and switches is a lot sexier than boring acoustic panels and bass traps. In truth, acoustic treatment will improve the quality of everything you produce far more than your choice of microphone preamp, sound card, or outboard compressor.
Some may question the need for acoustic treatment. After all, how many people who hear your music will be in a treated room? The answer is simple - all rooms have a unique frequency response. So if your room lacks deep bass, your mixes will contain too much bass as you wrongly compensate. If someone plays your mix in a room having too much bass, the error will be exaggerated, and they'll hear way too much bass. The only viable solution is to make your room as accurate as possible so any errors listeners hear are caused by their own rooms, not yours.
Besides improving the accuracy of your entire system, proper acoustic treatment makes recording and mixing a lot more fun. It's a real head slapper the first time you hear every note articulated clearly by an electric bass, and are able to discern even tiny changes in EQ and effects settings. In one brief moment, it becomes clear what you've been missing all along!