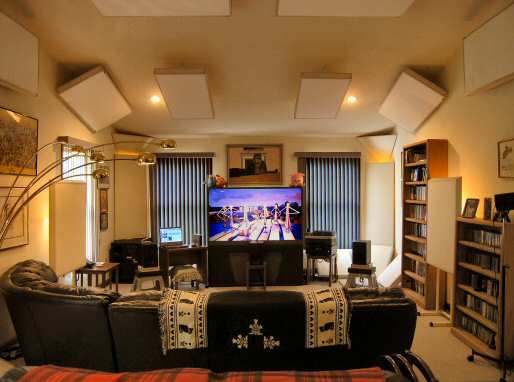 Now this is how to treat a room! Unfortunately, not everyone is lucky enough to manage as many traps as shown here.
"For rooms with only two bass traps, we recommend treating the front left and right wall-wall corners."
"Pink noise contains all frequencies, so it's more suitable for identifying trap locations than music."
Download the

RealTraps

noise MP3 file HERE (650 KB).

OVERVIEW

When it comes to bass traps, you can never have too many. I suppose this is the audio equivalent of "You can never be too rich or too thin." It's impossible to make any room perfectly flat, so you get as many bass traps as you can manage and accept the results. If you're able to line every corner and tri-corner with bass traps, as shown at left, you're assured of having an excellent low frequency response with minimum ringing. For the rest of us, the trap placements must be optimized to get the most benefit from each.

This brief article describes an easy way to find the best place for however many traps you may have. Note that for rooms with only two bass traps, we recommend treating the front left and right wall-wall corners. Top

FIND WHERE THE BASS LIVES

All room acoustic problems are caused by reflections from the walls, floor, and ceiling. Therefore, absorption is best placed where the reflections occur. At mid and high frequencies these locations are easy to determine. But bass tends to collect in the corners, and some frequencies may end up more in one corner than another and vice versa - depending on the loudspeaker and subwoofer locations and other factors. So the goal is to find where bass energy accumulates the most, and put your bass traps there.

We used to recommend playing bass-heavy music and walking around the room listening in each corner to see where the sound is most bassy. To find the best ceiling corners for traps you'll climb up on a ladder and listen. The problem with using music is the bass notes are constantly changing, and only some low frequencies are present in any given song. If the modes in your room don't happen to match the frequencies present in the music, you're just wasting your time. Top

To solve this problem we created a much better signal source for this purpose - filtered pink noise. Pink noise contains all frequencies, so it's more suitable for identifying trap locations than music. Filtering out the higher frequencies also lets you more easily hear the bass portion, and makes the sound less irritating for the 10 to 20 minutes it takes to walk around and listen. Another advantage of filtered pink noise is an SPL meter can be used to assess the relative bass levels more accurately than listening. But listening works quite well if you don't have a meter.

The MP3 file linked at the top of this page plays for about 80 seconds. If you have a computer connected to your system you can play the file in looped mode so it sounds continuously while you walk around listening. Otherwise, you can burn the file to a CD and play that through your system. If you make a CD, add the file ten or more times in a row so you don't have to keep pressing Play to hear it. Top