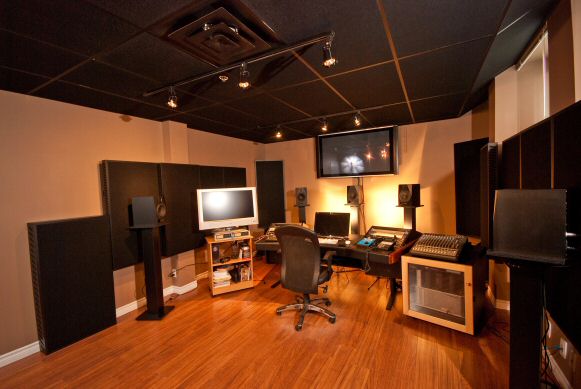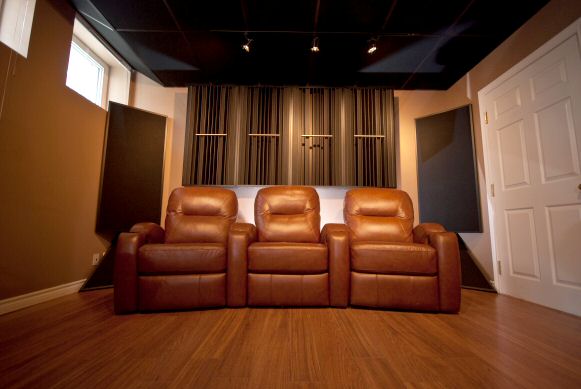 These

RealTraps

Ceiling Tiles and other products are installed at Révoluson Mix A in Moncton, New Brunswick, Canada. Click the photos to see them full size.
"RealTraps Ceiling Tiles let you seamlessly integrate superior acoustic treatment into an existing drop ceiling."
CEILING TILES
Most commercial ceiling tiles are intended for use in offices or supermarkets to reduce ambience at speech frequencies only. Even expensive ceiling tiles are ineffective for rooms where music and DVD movies are played. They're simply too thin to work well at low frequencies, and the smooth paper or plastic facing absorbs too little at high frequencies.
To solve this problem RealTraps offers an assortment of very high-performance acoustic ceiling tiles for use with existing drop ceilings. These tiles are essentially the same as MiniTraps (both standard and HF versions), but without the metal frames. They're also slightly smaller in each dimension to fit into a standard grid ceiling, and can be cut on site as needed to fit in partial grid openings. With a full complement of 3-inch thick tiles installed, the entire ceiling becomes a giant bass trap.
For those with an existing drop ceiling, or who wish to install a drop ceiling to hide the acoustic treatments, we offer eight sizes of ceiling tile as an affordable and attractive alternative to our standard acoustic panels. All sizes are available in any of our standard colors, either 1.5 or 3 inches thick, and in Standard or HF types for either bass trapping or reflection control. All ceiling tiles are cut 1/4 inch shorter and narrower than the stated size, to fit correctly in a standard grid ceiling. So a 2'x2' tile is actually 23-3/4" square, and a 2'x4' tile is 23-3/4" by 47-3/4".
The 3" thick Standard ceiling tiles offer the same level of bass trapping as MiniTraps. We recommend placing these throughout a room, especially near walls around the perimeter to get bass trapping similar to Standard MiniTraps installed at an angle straddling the wall/ceiling corners.
For certain key places we recommend the HF type ceiling tile which absorbs mid and high frequencies as well as bass. This is most useful in critical areas close to your ears such as above the listening position, or over areas where acoustic instruments are recorded such as piano or drum kit as shown at left. HF ceiling tiles are also preferred in all locations when the floor is reflective (no carpet). For more information on using HF tiles for reflection control, see the article Creating a Reflection-Free Zone. Note that 1.5" thick ceiling tiles are quite adequate for reflection control, but the 3" thick type is even better because it gives that much more bass trapping.
Ceiling tile weights:
| | |
| --- | --- |
| 2'x4'x3" | 6 pounds |
| 2'x2'x3" | 3 pounds |
| 2'x4'x1.5" | 3 pounds |
| 2'x2'x1.5" | 1.5 pounds |
Ceiling tile absorption, E-405 mounting in a grid ceiling:
| | | | | | | | |
| --- | --- | --- | --- | --- | --- | --- | --- |
| Freq: | 125 | 250 | 500 | 1000 | 2000 | 4000 | NRC |
| 1.5" HF | 0.36 | 0.53 | 0.94 | 1.03 | 1.04 | 1.10 | 0.88 |
| 3" HF | 0.66 | 0.93 | 1.13 | 1.10 | 1.11 | 1.14 | 1.05 |
Note that RealTraps Ceiling Tiles are custom made for each order, and cannot be returned under our Satisfaction Guarantee. Please allow three weeks for delivery.