Click the images below to see larger versions.
..PRAISE & YET MORE REVIEWS..
Below are quotes from some high-profile RealTraps users. Also see our Customers page for even more quotes from our many satisfied customers, plus dozens of photos including the home studio of producer Nile Rodgers.
"The MondoTraps have been EXTREMELY EFFECTIVE! They helped reduce the amplitudes of the nodes and antinodes, resulting in an overall fuller, stronger, more accurate bass. Trapping not only improves notes that may have stood out or been weak, it also has other benefits. A critical dip at 55 Hz was reduced, and this has amazingly improved the overall tonality of the entire system." --Bob Katz
"I don't have measuring equipment to shoot my room and determine the precise difference in bass response in my listening position the MegaTraps caused, but in subjective terms it was audible and it was drastic. The improvement in my mixes was dramatic, and the improved sound of the room was evident even to non-professionals visiting the space." --Mike Metlay, Recording Magazine, June 2011
"Wow! These small equilateral triangles had a bigger impact on the sound than I had expected. For those of us with spousal and decorative constraints, RealTraps' Tri-Corner trap is a notable product." --Kal Rubinson, Stereophile magazine, November 2006
"Our control room at Le Crib Studios needed serious help. After installing MiniTraps the room sounds better than we believed possible, with clear, round bottom and vastly improved imaging. Fantastic product, great company." --Nile Rodgers & Richard Hilton
"The MondoTraps are Mondo effective. I have a great room but I was never positive with certain frequencies below 100hz ... until now. Mixes are translating accurately. Now my room is the reference, not the car." --David Schwartz, multiple award-winning composer for Arrested Development, Northern Exposure, Deadwood, many others.
"The room is so much flatter and true, the peaks and nulls remarkably smoothed out, mixing there is now sonically accurate and a real pleasure. RealTraps eliminated the guess work in getting my mix room acoustically correct. We are really happy about how well the room is now translating both to other top mix rooms in NYC and also mastering. Great news!" --Tony Maserati, mixer for Black Eyed Peas, John Legend, Mariah Carey, Destiny's Child, R. Kelly, Jennifer Lopez, Jessica Simpson, Tupac.
"No matter how high a plain upon which your home movie and music reproduction system rests, I am certain the fresh air of MiniTraps can lift any modest or superb A/V system to a new plateau. Strongly recommended for tweaking audiophiles." --A. Colin Flood, EnjoyTheMusic.com and RealTraps customer (read the complete review here)
"Really Good!" --David Chesky, president of audiophile label Chesky Records. At the October 2003 AES show in New York City Dave stopped by our booth to tell us how satisfied he is with his MiniTraps. He had recently bought 12 MiniTraps for Chesky's large main control room, then he bought eight more for another control room. He said "Really good!" about eight times in a row! Update: David has since bought six more MondoTraps.
"Wow!!! What a big difference the RealTraps make. I don't see how anything else could be better for the price. Lee Levin (Ricky Martin, Julio Iglesias, Christina Aguilera, Michael Bolton, many others)
"Now, clients remark about the stereo image and their ability to hear new things in familiar material, proof that small spaces can be rehabilitated." --Eddie Ciletti, Mix Magazine Contributing Editor
"The RealTraps kick ass. The improvement in our little control room was immense." --Rip Rowan, editor ProRec.com and RealTraps customer.
"Your traps are amazing!" --Ed Dzubak, three-time Emmy-winning TV composer (CBS, NBC, TLC, Comedy Central)
"I have to say that these traps are revolutionary for the studio. They are very effective and look good, and you have done such a great job making a new benchmark product." --Peter Moshay (Live from Daryl's House, Mariah Carey, Hall & Oates, Paula Abdul, Barry Manilow)
"[With RealTraps] the low end of the room immediately tightened up and smoothed out, the bass resonances disappeared, and overall the bass level at the listening position seemed to increase." --Mitch Gallagher, editor EQ Magazine and RealTraps customer
"Now I can clearly hear the bass in my room - thanks guys!" --Jerry Barnes, Avatar Studios, New York (Roberta Flack, Chaka Khan, Chuck Mangione, Al Green, Chic)
"It's now much easier to make decisions about the low end than it was before, and tracks heard in my control room translate better when heard elsewhere because my room imparts less of its acoustic signature to what I hear in the room." --Andy Hong, TapeOp Magazine reviews editor and RealTraps customer, July 2003
"The MiniTraps are up, I'm digging them immensely. My room sounds better and looks great." --Larry Crane, Editor TapeOp Magazine and RealTraps customer
Other famous clients include Herbie Hancock, Bob Clearmountain, Butch Vig, Atlantic Records, T Bone Burnett, NBC's Universal Studios, Pixar, Telefunken USA, Mark Mothersbaugh, M-Audio, Microsoft, Georgetown University, NVIDIA, Sterling Sound, Voice of America, Full Sail Real World Education, Klein+Hummel, Toyota, Subway, TASCAM-Nemesys, NBC, NASA, Google, Ray Kimber (Kimber Kable), Trinity Broadcasting Network (TBN), Fraunhofer USA, composers Alan Pasqua and Jesper Kyd, William Morris Agency, Ogilvy & Mather, McGill University, Columbia University, Universal Mastering, TMZ, Berklee College of Music, US Army, Fox Sports, Disco D, Spotify, Blizzard Entertainment, Radio Free Asia, David Kutch, Leon Lee Dorsey, Viacom, Museum Of Modern Art (MOMA), Pratt Institute, JT, MIT, Bose Corp (three listening rooms, in Massachussetts, Japan, and Korea) , Paramount Recording, Starbucks, Tulane University, SETI Institute, Timbaland, Brigham Young University, NYU, Epcot Center, Starz TV, US Forest Service, Christopher Cross, Johnson & Johnson, School of Visual Arts, Electronic Arts, The Onion, Oxygen TV Network, Samsung, Dolby Labs, CBS News, Notre Dame, Orlando Magic, Sony Music Entertainment, VISA International, ESPN, Warner Brothers Records, Abercrombie & Fitch, NASCAR, Princeton University, Beardyman, Harvard University, Ray LaMontagne, American Public Medium (NPR), National Geographic Society, Amazon, Steinway Pianos, Texas A&M University, Gotye, CNN, and Roy Hendrickson, chief engineer at Avatar Studios in New York.
---
REALTRAPS PARTNERS WITH BOSENDORFER NEW YORK AT HES 2005
Legendary piano manufacturer Bosendorfer and RealTraps customer exhibited their new line of high-end loudspeakers at Stereophile magazine's Home Entertainment Show in New York City. Recognizing the importance of acoustic treatment and bass trapping they came to RealTraps for help. We provided 12 MondoTraps on stands for the large (26 by 40 feet) suite, and we are glad to report that this was by far the best sounding room at the entire show!
Below and to the left you'll read more than a dozen favorable reviews, along with praise from many high-profile

RealTraps

customers. Note that we never solicit or pay for endorsements, and all of our customers paid for their traps. Their comments were offered willingly because they believe in what we do.

GREAT USER REVIEW AT GEARSLUTZ

A highly satisfied RealTraps customer tells all HERE.

2008 HOME THEATER SOUND REVIEW

Another satisfied RealTraps customer, Randall Smith, tells his story to the press HERE. This is our favorite line from Randall's review:

"I had long believed in acoustically treating a room, but had always held off because I intended to move to another house. What a lot of time I've wasted."
---
REALTRAPS HONORED WITH STEREOPHILE MAGAZINE'S 2007 ACCESSORY OF THE YEAR AWARD!
Not only did RealTraps receive this highest honor for our MondoTraps, but we won by a wide margin garnering twice as many editor votes as the second runner-up. Woo hoo!
---
YET ANOTHER GLOWING STEREOPHILE REVIEW
The August 2007 issue of Stereophile features a great review of our MondoTraps, this time by Jim Austin. Read the full review HERE and below are a few highlights:
"I was sent eight MondoTraps - $2400 worth of sound treatments. Considering what they did, the price was a bargain - many cables and power-treatment products cost more and accomplish far less ... With [only] three MondoTraps stacked in the corner, the dip went away. The effect was repeatable, easily measurable, and dramatic ... With the MondoTraps in place, bass instruments sounded fuller, clearer, more palpable ... the MondoTraps seemed to reduce the glaze in my room, making it easier for me to hear into the music and enjoy it more. Far from deadening the room, the MondoTraps made the music more involving."
---
BOB KATZ REVIEW
Black belt mastering engineer Bob Katz purchased seven MondoTraps last year. He was so thrilled with the improvement in his room that he offered us THIS great review, and bought three more! Thanks Bob!
---
AFFFORDABLE$$AUDIO REVIEW
Online magazine Affordable$$Audio gave us a glowing review in their February 2007 issue which you can download HERE. As often happens, this is much more than just a review, and a lot of additional information is included. Please also visit the AA site: http://www.affordableaudio.org/
---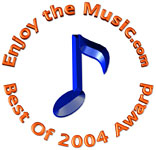 REALTRAPS HONORED WITH BLUE NOTE AWARD
This happens every single time our products are reviewed: The reviewer likes them so much he not only writes a glowing review but also buys them. And so it went yet again with Colin Flood, reviewer for audiophile site EnjoyTheMusic.com in THIS review. Then we were honored with their Blue Note Best of 2004 award you can read about HERE, and then again HERE when we were awarded their Product of the Decade award.
---
STEREOPHILE, APRIL 2006
"The MondoTrap is a great, fully thought-out product made to a very high standard, and the [Wheat] color is as close to Benjamin Moore's Linen White wall paint as one could ask for. No sane person will spend $40,000 on a pair of loudspeakers without paying adequate attention to room acoustics, right?" --John Marks, Stereophile, April 2006.
---
DAGOGO, FEBRUARY 2006
"For the first time I felt that I was hearing my system's actual potential. Spectral analyses conducted by Rives revealed that the design goals had been achieved: The room had a reasonably flat bass frequency response, as well as the desired RT60. While I did not have 'before' measurements, I daresay that they would have paled in comparison to those obtained 'after.' --Larry Borden
---
AUDIOHOLICS, JANUARY 2006
"All things considered, I believed my room sounded pretty good untreated. I can honestly say that that was as nothing compared to the utterly captivating sound and unprecedented level of detail I now enjoy. For the first time in my life, I have made significant inroads at being able to hear the quality of sound radiating from my speakers, and let there be no doubt; it's very, very good. To me, RealTraps were worth every penny. I cannot recommend them highly enough." --Robert T. Buckle
Read the complete review HERE.
---
PROREC.COM, AUGUST 2005
"RealTraps has a great product with the MiniTraps. They are simply the ideal bass treatment for most every studio application. If you want to improve the bass response of your system, before you invest in a new pair of speakers, take the time and effort to improve the bass response of your room with broadband bass absorption from RealTraps." --Rip Rowan
Read the complete review HERE.
---
TAPE OP MAGAZINE, JULY / AUGUST 2005
"I can't say enough about how awesome RealTraps products are. I'm convinced that they're the most cost-effective off-the-shelf means of treating a small room for low-end acoustics. When people ask me what gear they should buy to improve the sound of their home or project studio recordings, I tell them to buy RealTraps bass traps, because a room with crappy acoustics will give you crappy recordings, no matter what mic or compressor you use." --Andy Hong
---
POSITIVE-FEEDBACK.COM ISSUE 20
"The RealTraps room treatments work better than any other products I have tried. I venture to say that virtually anyone can more dramatically improve the sound of their system by using RealTraps than by spending thousands of dollars on a CD player, turntable, or amplifier upgrade." --Danny Kaey
Read the complete review HERE.
---
SOUND ON SOUND, JUNE 2005
"With the MondoTraps in position, the change in the overall system sound was dramatic. Finally I could usefully adjust the positioning and output level of my subwoofer, and the bass response remained much more uniform as I moved around. Crucially, though, the ferocious 80 Hz dip in the frequency response was dramatically reduced, much to my delight." --Mike Senior
---
STEREOPHILE, JANUARY 2005
"Everyone agrees that the RealTraps have made a major improvement ... For a hypothetical investment of $2000, they so improved the room's acoustics that every recording and piece of electronics sounded better. I doubt if a similar investment in any other component could yield as much satisfaction." --Kal Rubinson, Music in the Round
Read the complete review HERE.
---
EQ MAGAZINE, JANUARY 2005
"RealTraps have come up with an unqualified winner. I can think of few products that have been so useful in so many different configurations, produced such dramatic improvement, and have been so easy to use as the MiniTraps - all for the price of a single good mic or preamp. Now that I've heard what they can do, I won't be sending these back." --Lee Flier
Read the complete review HERE.
---
PRO AUDIO REVIEW, DECEMBER 2004
"Let me get right to the point: I really like the RealTraps products. Unlike typical foam products glued to surfaces, RealTraps use the same effective approach to acoustic control found in most top studios - one that I was already familiar with from my own studio experience. Also - and this is not an exaggeration - I believe it would take all of the foam that came in a typical starter room kit to equal the mass of a single MondoTrap." --Stephen Murphy
Click HERE for the PDF file with the complete review.
---
MUSIC TECH (UK), NOVEMBER 2004
"Music flowed from the speakers and imaging was much improved, with low level details like room ambience and subtle reverb effects becoming easier to discern." --Huw Price
Click HERE for the PDF file with the complete review.
---
SOUND ON SOUND, SEPTEMBER 2004
"Over the last fifteen years I've tried a variety of modular solutions to bass trapping, including resonant tubes and panel traps, and none of them have had performance anywhere near that of the MiniTraps ... I've put my money where my mouth is, and not only are the four review MiniTraps staying put in my studio, I've also added another two!" --Martin Walker
Click HERE to read the complete review.
Sound On Sound is a British magazine, but it's also available in North America by mail and as an E-subscription. Click the Subscribe link at the top of the review page for information.
---
AUDIO MEDIA, SEPTEMBER 2004
"We've used the absolute minimum number of Traps (just two) in our small room but the effect they have had is amazing. Play any audio in there now and you get a sense of focus that just wasn't there before." --Jerry Ibbotson
Click HERE for the PDF file with the complete review.
---
REALTRAPS SCORES AT 2004 AES
RealTraps scored big at the San Francisco AES show where we were invited to provide acoustic treatment to a consortium of top audio companies for their huge surround demo room.
Several times during each day of the show, four companies - Genelec, Steinberg, DTS, and Soundfield - gave a joint presentation of their surround technologies in a huge 90 by 55 foot room. Since it was obvious that acoustics would be a problem in a room that large, RealTraps was called in to help. We arrived with a mix of 36 MiniTraps and MondoTraps, and our hosts were so impressed they asked RealTraps partner Doug Ferrara to be the first speaker at each session - even before their own presentations! - to explain the importance of acoustic treatment and bass traps.