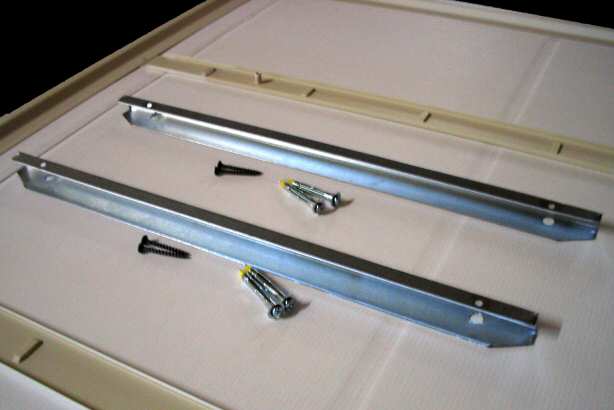 The RFZ Ceiling Kit includes two custom metal brackets, plus four wall anchors and four wood screws so you can attach to any type of ceiling. Click the image to see it full size.
FLUSH CEILING MOUNTING WITHOUT WIRES
The RFZ Ceiling Kit lets you hang an RFZ Panel securely from the ceiling without the air space you'd normally have when hanging it with wires. You can also buy the metal pieces to make these yourself if you prefer. Details are below.
First measure and mark where the four wall anchors or wood screws will go on the ceiling. The bracket holes are 16 inches apart, and the brackets are placed 16 inches apart from each other. The rear view of an RFZ panel below shows these dimensions.
This next drawing below shows a side view of an RFZ panel hanging after the brackets have been attached to the ceiling. Note that the shorter part of the bracket goes against the ceiling. Once both metal brackets are attached to the ceiling, push the trap up against the ceiling, then slide it so the metal tucks behind the RFZ panel's mounting bars, between the bar and the white backing.