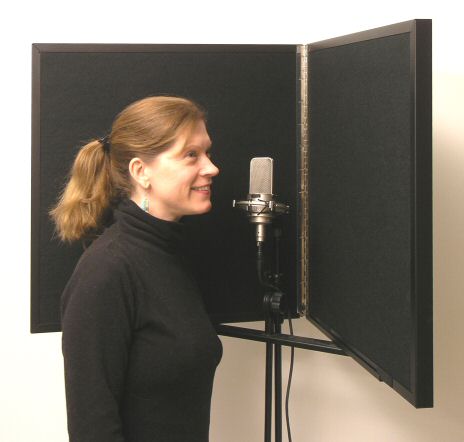 Fabulous country singer Katie Scott was one of our first PVB customers.
---
"I'm loving the PVB." --Brian Chapman, Venice, CA
"I just received the Portable Vocal Booth. Setting it up was simple just like the website said. I tried it out on a couple of sources and I have to admit that I'm pretty impressed. Moving from a few feet away from the PVB and closer into it I could immediately here a marked difference in the way the sound was contained. Kudos on some great work." --Daniel Shatzkes, Brooklyn, NY
"We used our two PVBs for a couple of sessions on vocals and guitar and they are working out great. Thanks again for great service, and a great product." --Brynn Chappell, Manchester, UK
"I own an advertising agency specializing in radio and internet marketing. I often record clients for radio commercials in my home office where the room sound is less than optimal. The Portable Vocal Booth has improved the quality of these voiceovers dramatically. Your product does just what you said it would and I'm forever greatful." --Dave Barton, Cornerstone Communications, Dana Point, CA
"I can say without any hesitation that RealTraps Portable Vocal Booth works. It's awesome. It works so well, I doubt I'll ever stop using it. Really. It's that cool." --Chvad, New York City"
---
"If you do any amount of recording with microphones ... then one or two Portable Vocal Booths would come in very useful: they are surprisingly versatile and have applications far beyond vocal recording. Even taking into account shipping, this is sensibly priced. It is also well made and should provide many years of reliable service." --Paul White, Sound on Sound magazine review, June 2007
"I just want you to know that I love the RealTraps portable vocal booth. I've been telling everyone how awesome it is, and that it works wonders." --Nina Diva, New York City
"Your PVB has helped me get the close intimate vocal tracks I've been dying for. It definately helps me isolate the vocal from the room in my small studio. I can truly say I am pleased I purchased it." --Erik Gurney, Windsor, Ontario
"I've been using the PVB for a couple of weeks now, and you probably know this, but it works great. I've been using it mainly to record vocals and acoustics in the Control Room, and electric guitars through a loud amp in a not very good sounding room, every time with good results. Thanks for bringing a great product to the market!" --Juergen Walde, Asuncion, Paraguay
"I gotta admit, this thing is incredible. What a huge difference! I'm so pleased - you couldn't have a more satisfied customer!" --Richard Hilton, Chic keyboardist and engineer for producer Nile Rodgers. Top
"I purchased a Portable Vocal Booth to use for voice over recording, and used it yesterday for the first time. It made a huge difference in the quality of the recording! I couldn't be more pleased. It was very easy to set up and use, and in a room where previous recordings were marred with rather unpleasant room sounds, the recordings sounded much better." --Martin Schiff, Starbirth Music, Maitland, FL
"I received the PVB today and my first tests are impressive! I'm really satisfied by the results, excellent!" --Isham Bachir, Bienne, Switzerland
"I just wanted to tell you how amazed I was at the performance of your Portable Vocal Booth. I had to record a narration part by Charley Steiner (voice of the LA Dodgers) and had to bring equipment to his home. I'd never been there before, so I was a bit nervous. We had to record in his dining room, and while listening to him speak, it sounded like we were in a cave! But as I listen to the recording now, you don't hear those reverberations, and it is perfectly usable. The PVB did a great job!" --Jeff Fletcher, Los Angeles, CA