......REALTRAPS NEWS......
WE GOT REVIEWS! RealTraps has received numerous outstanding reviews over the past few years. This is unprecedented for any acoustic treatment company! Read all about it on our Praise & Reviews page.
Sign up for our occasional newsletter, or read past newsletters and press releases on our Newsletters and Press Releases page.

REALTRAPS MEGATRAPS NOMINATED FOR PRESTIGIOUS TEC AWARD. Details at the TEC Foundation web site web site.
REALTRAPS PODCAST - RealTraps manager Jim Lindenschmidt has produced a second podcast episodes, hear it HERE.
NEW "SPOUSE-FRIENDLY" PRODUCT LINE
RealTraps is pleased to introduce a new line of products that will blend nicely into any room. Full information is on our Products page.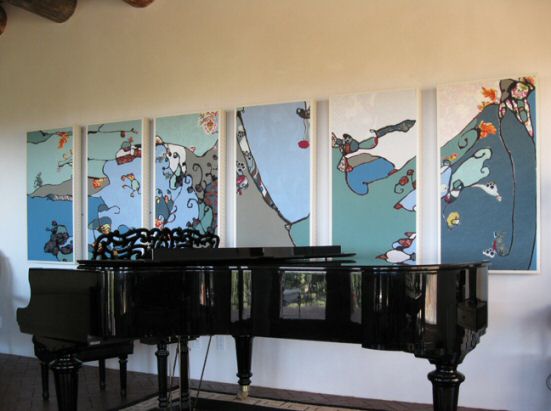 BEAUTIFY YOUR REALTRAPS! This fabulous mural was created by Angela Beloian for one of our customers. The art is drawn in ink on absorbent fabric that was applied onto the MiniTraps. If you'd like Angela to do the same for you, please visit her web site. Click the image for a larger view.
REALTRAPS HONORED WITH STEREOPHILE MAGAZINE'S 2007 ACCESSORY OF THE YEAR AWARD! Not only did RealTraps receive THIS highest honor for our MondoTraps, but we won by a wide margin garnering twice as many editor votes as the second runner-up. Woo hoo!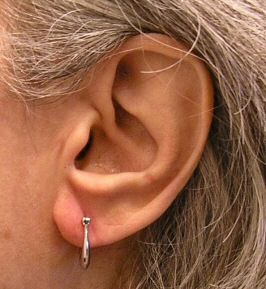 Don't waste your time with digital room "correction" that must be inserted into the signal path.

RealTraps

products are all-natural and 100 percent analog! Just like your ears.
REALTRAPS INVITED TO THE GRAMMYS!
RealTraps supplied acoustic treatment for the Grammy Awards broadcast on Sunday, February 11. We provided eight MiniTraps plus two RFZ panels to the strings sub-mix control room used for the live on-air feed.
RealTraps joined forces with several other companies in June at the HES 2006 show for a demo using two adjacent rooms. Why two rooms? Both rooms were identical, but one room had no acoustic treatment and the other was fully treated, so folks could instantly hear the difference! It was very cool, and we converted quite a few skeptics into believers over the course of the show. Special thanks to Richard Bird of Rives Audio for making this amazing demonstration possible.
RealTraps recently received a big boost from world-class recording engineers Bob Katz and Charles Dye. Read all about it on our Praise & Reviews page.
We sold a large number of traps to Barry Gibb for the recording of Barbra Streisand's new CD Guilty Pleasures at Barbra's home. Co-producer John Merchant sent us these photos and told us, "We were able to use a combination of MiniTraps and MicroTraps to tame down the reflections and even out the low frequency response. She [Barbra] was very happy with the vocal sound ... the mixes translated beautifully with no ugly surprises."
ACOUSTIC TREATMENT OVERVIEW
The purpose of acoustic treatment is to improve the quality of sound in a room. Common problems are echoes and excess ambience, too much or too little bass, poor stereo imaging and localization, unclear movie dialog, and generally muddy sound. Low frequencies are often the biggest problem, with response variations as large as 35 dB, especially in smaller rooms.
For recording engineers, mixes that seem fine in your control room sound boomy or thin when played elsewhere. If you can't hear bass instruments clearly it's impossible to create mixes that sound good everywhere. For audiophiles and home theater owners, bass instruments sound boomy and ill-defined, movie dialog is difficult to understand at low volumes, and the excess ambience turns music into an incoherent mess.
To solve acoustic problems common to all rooms, RealTraps has developed a line of very high-performance acoustic treatment - bass traps, broadband absorbers, and diffusers. Once a room has been properly treated, the clarity and articulation of music improves enormously. Whether you're a professional recording engineer, serious audiophile, or home theater owner who wants the best sound possible, the most cost-effective way to upgrade your entire system is with acoustic treatment from RealTraps.
Besides recording studios and listening rooms, our bass traps, diffusers, and other products are also used in churches and chapels, restaurants, bars, auditoriums, Foley studios, movie sound stages, DVD mixing suites - even a research lab at MIT!
Note that RealTraps products are intended to improve the sound inside a room. They are not designed to prevent sound from traveling to other rooms, or reduce outside sounds from getting in. For that we recommend Green Glue and other products sold by The SoundProofing Company. More than just listing products, the Library section of their web site contains a wealth of information about sound isolation. For soundproof door seals we recommend Zero International, and complete door and window systems are available from Soundproof Windows.
All RealTraps products are built in our own Connecticut factory by highly skilled workers using only American made parts. Top
HOW MUCH DOES IT COST, AND HOW DO I ORDER?
For most domestic size rooms the price ranges from as low as $800 (four MiniTraps) to around $15,000 for outstanding results in a larger room. Smaller rooms can often get away with less treatment, where larger rooms have more surface area which must be treated. So the cost depends on how much you're comfortable spending versus the kind of results you expect. Most orders are placed by telephone, or by email for customers outside North America. We do not have a web store. Please call us between 10:00 am and 5:00 pm Eastern US time.
CONSULTING DEPOSIT
RealTraps offers full advice and guidance on all aspects of acoustics and treatment. This includes questions that go beyond our products such as room design and setup, as well as audio equipment for hi-fi, home theater, and recording studios. Purchase advice is always free, but often people have other questions before they're ready to buy, or need substantial guidance. In that case we charge a $400 deposit which is applied fully to that later sale. So the consulting is free, as long as you eventually buy at least $1,000 worth of products.
NAVIGATING THIS WEB SITE
There is a huge amount of product information and educational material on this web site, and the "tabs" at the top each page will take you to the various sections. Although many of the explanations address recording engineers, all of the content is equally relevant for home theater owners and audiophiles who are serious about good sound. Below are direct links to some of the most popular pages on this site.
Acoustic Basics - Recording & Mixing
Acoustic Basics - Hi-fi and Home Theater
Room Kits
Hearing is Believing
Frequently Asked Questions
Praise & Reviews
Placing RealTraps
Acoustics Articles
Product Demo and Tutorial Videos
---
THE REALTRAPS GUARANTEE
Satisfaction: If you are not satisfied - though you surely will be - you may return any RealTraps product for a full refund within 30 days, minus shipping, as long as they are in perfect condition and show no sign of abuse or tampering. The one exception is Ceiling Tiles which are custom made for each order and not returnable.
Performance: All RealTraps products are guaranteed to the original owner to be free of manufacturing and other defects for a period of ten years. This warranty does not cover cosmetic blemishes, nor will it be honored if a trap has been opened or unsealed, modified, improperly installed, or subjected to accident or abuse.
Important: Returned products will not be accepted unless you first obtain a Return Authorization Number from us. This number must be written clearly on the outside of all shipping cartons. Returned products must be packaged properly using the original cartons and packing materials, and should be insured for the full price you paid. All shipping charges are paid by the customer. Top
PRIVACY STATEMENT
No customer information is ever sold, given away, or used by anyone other than RealTraps for the expected purposes of normal business activity. Although we do request an email address when you place an order, that is used only to send your receipt, and so FedEx can send you a tracking notice when your order ships. Credit card numbers are kept in paper form only - never on a networked computer.
LAWYERS ALWAYS GET THE LAST WORD
Neither RealTraps nor its owners shall be liable for any damage caused by the installation, use, or misuse of these products including, but not limited to, loss of profit, business interruption, a trap falling off the wall and breaking your vintage Neumann tube microphone, or landing on someone's head, or any other mishap including incidental or consequential damages, even if RealTraps or its owners have been notified that such damages might occur. All prices are subject to change without notice. All RealTraps product names are trademarked or pending trademark. Top