"Note that bookshelves or random uneven surfaces are not diffusion."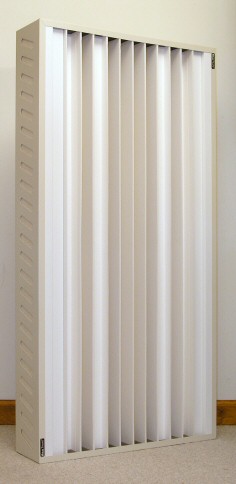 The RealTraps Diffuser is also an excellent bass trap.
"In general, you will get best results from spacing the trap away from the wall a few inches."
PROBLEM #2: HIGH-FREQUENCY REFLECTIONS
In addition to bass problems at the rear of the room, reflections from the rear wall also occur at mid and high frequencies. Luckily, high frequencies are, in general, easier to deal with than low frequencies. There are basically two choices: we can either absorb or diffuse these frequencies.
ABSORPTION OR DIFFUSION?
Both absorption and diffusion are effective at a rear wall, with different costs and a somewhat different sound. Absorption removes sound energy from the room by converting it to a tiny amount of heat, whereas diffusion scatters the sound waves evenly in various directions.
Note that bookshelves or random uneven surfaces are not diffusion. Also note that it's difficult to build a diffuser precisely enough for it to be effective. For instance, a good QRD diffuser contain wells of varying but precisely calculated depths. These wells work together to produce the diffusion. For more detail about what diffusion is and how it works, see our video All About Diffusion. This video also lets you hear the sound of absorption and diffusion, and how they are different from a flat reflective surface.
In general, our take on diffusion is that it is "icing on the cake" in a great room, but it's not necessary for good sound. And because Diffusers are our most expensive panels (they have a lot of parts and are very labor-intensive to build), they aren't always the most cost-effective solution. That said, if you have a budget for diffusion, and bass trapping and early reflection control are in place, there's no more effective rear wall treatment than RealTraps Diffusers, and specifically our Diffuser Modules.
Note also that Diffuser Modules are exceptional when placed around the entire perimeter of the room (except at reflection points). This strategy will transform just about any room into a world-class listening environment, as shown in our video Hearing is Believing. Top